You are here

Hershey Offers Investors Certainty In An Uncertain Time
Hershey Offers Investors Certainty In An Uncertain Time
Submitted by Silverlight Asset Management, LLC on February 14th, 2019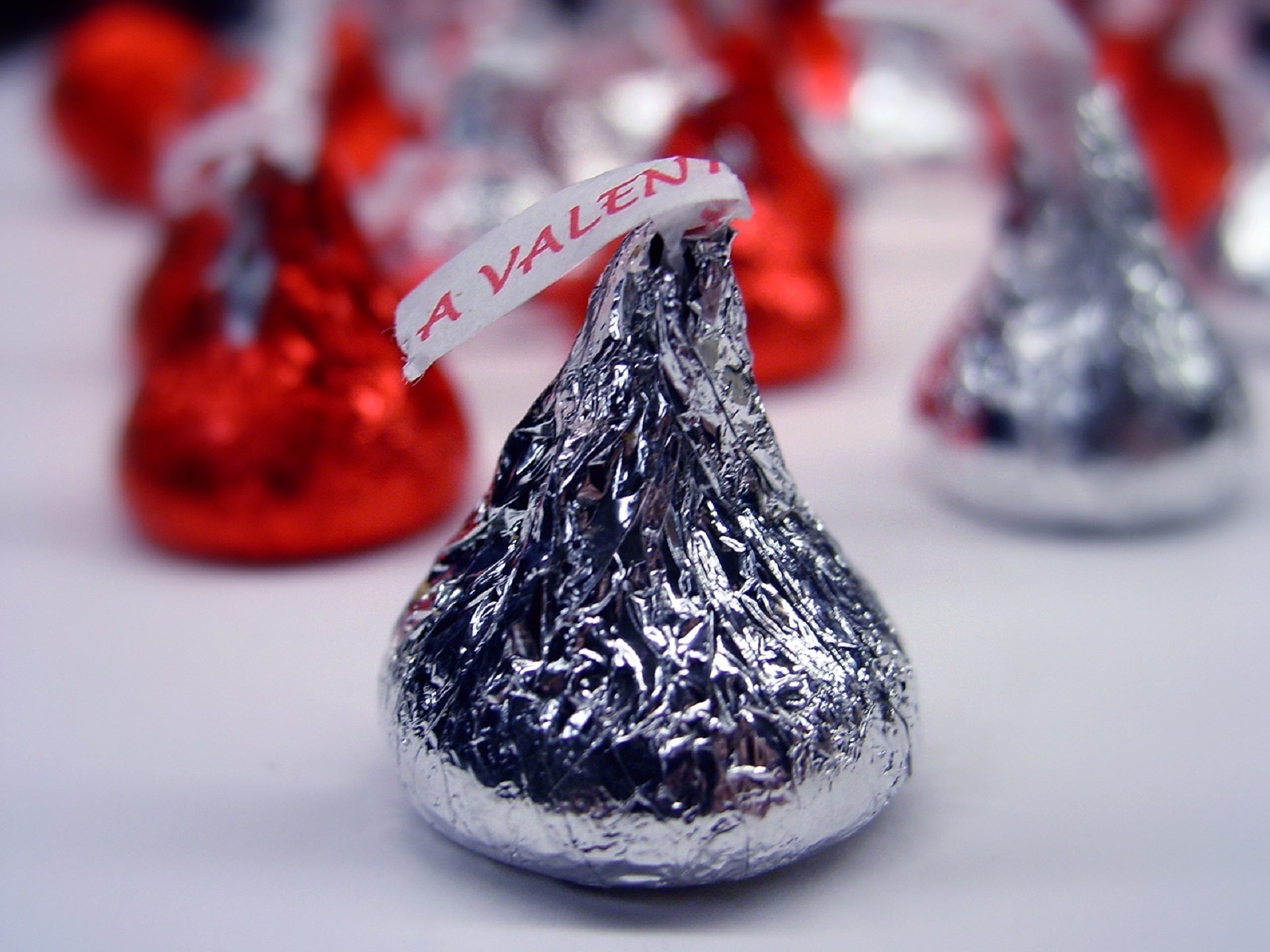 This Valentine's Day, you may want to add Hershey shares to the chocolate Kisses you buy.
Hershey offers equity investors an attractive risk/reward balance for the present environment.
Equities may be up sharply in early-2019, but it gets tougher from here. A confluence of major indices are nearing key technical resistance.
Meanwhile, fundamental uncertainties that recently plagued markets remain. For example, analysts are marking down estimates at the steepest rate in four years. And the Global Economic Policy Uncertainty Index still resides near an all-time high.
Depending on your portfolio and personal objectives, it may be wise to take advantage of the recent rally and rotate more defensively.
Hershey is one name equity investors ought to consider. Shares are flat year-to-date, after holding up relatively well during the market swoon.
Hershey vs. S&P 500, Q4 2018 - Present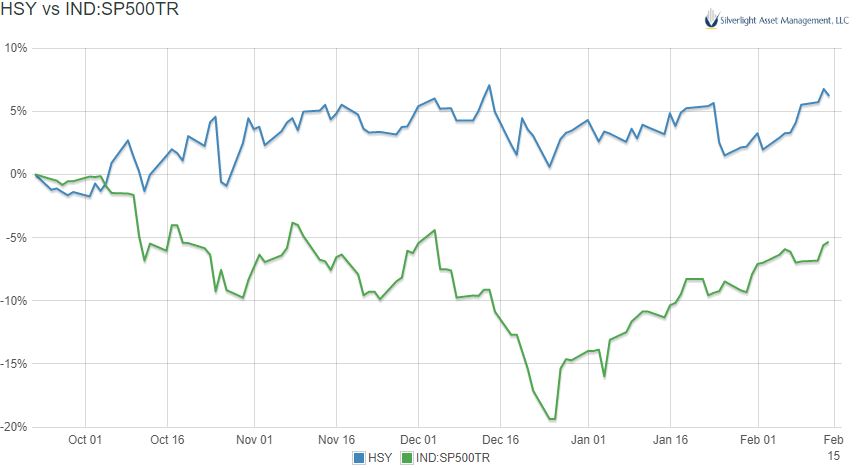 Hershey is a unique franchise with compelling economic traits
Hershey is one of the dominant players in the U.S. confectionery industry. The company owns about 45% market share of the chocolate aisle. The next closest competitor, Mars/Wrigley, has around 30% share.
The vital signs for Hershey's competitive position appear excellent. The firm has increased market-share by approximately 300 basis points since 2011, while expanding gross margins. That demonstrates pricing power and brand loyalty with customers.
Despite strong fundamentals, Wall Street's view of the stock can be described as lukewarm at best. There are only 3 Buy ratings, compared to 13 Holds and 3 Sells. Low to mild expectations mean plenty of room for upside surprises.
Hershey is best-known for its iconic chocolate brands like Reese's, Kisses and Kit Kat. These are automatic purchases for a lot of folks (i.e. inelastic), which enabled Hershey to earn returns on capital exceeding 20% in the last two recessions.
Chocolate is a steady cash cow for Hershey, but U.S. consumer aversion to high-calorie foods is a persistent headwind for unit growth. Euromonitor Passport projects the domestic market to grow just 1.4% annually through 2023.
To improve top-line performance, Hershey is focusing on two strategies.
The first strategy is to extend the company's international reach. Sales outside of North America accounted for 10% of total sales in Q3 2018, up from 4.2% in the same prior-year period. While Hershey has a lot of runway potential to grow its presence abroad, particularly in under-served emerging markets, doing so results in short-term margin compression due to rising freight and logistics costs.
The second growth strategy is expanding Hershey's reach in the $48.7 billion U.S. savory snack market. Hershey has only a 1.1% share, which it aims to expand via acquisitions.
Recent deals include purchasing Amplify Snack Brands for $1.6 billion (closed in January) and Pirate Brands for $420 million (closed in October). These purchases add growing health-snack brands to Hershey's portfolio, like Skinny Pop popcorn and Pirate's Booty. My kids munch on both regularly.
While investing in growth, Hershey has kept debt leverage at a reasonable level, and distributed cash back to shareholders. The total shareholder yield, including dividends and buybacks, is 3.2%.
The time to own stocks like Hershey is late-cycle
I recognize that food companies, even if they make something virtually everyone loves, like chocolate, aren't the most exciting investments.
Seeing as it's Valentine's Day, I'm going to share a chart I hope will help you fall in love with Hershey at just the right time.
HSY vs. S&P 500 Index, 2000 - Present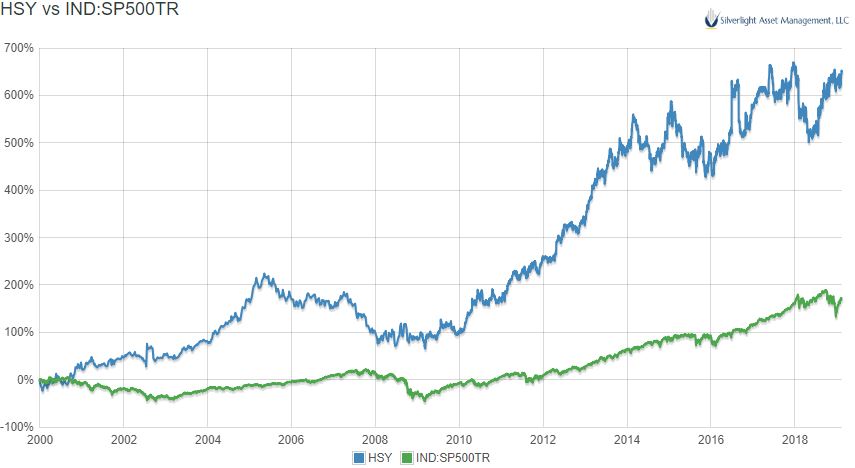 Since 2000, Hershey's cumulative total return has trounced the S&P 500 (+609% vs. + 171%).
How did a business in a mature industry outperform by such a wide margin?
There were two really important junctures.
2000-2002: Hershey gained +51% while the S&P 500 lost -38%.
2008: Hershey shed only -9% while the S&P 500 lost -37%.
Certain stocks, like Hershey, win long-term by not losing a lot in market dislocations.
None of us know precisely when the stock market will spiral. All we can say with reasonable certainty is that such events become more probable as cycles mature. Consider what transpired late-last year a glimpse of what will come again, and use rallies to prepare.
Also published by Forbes. Reprinted with permission.
---
Disclosure: I own Hershey in client accounts that I professionally manage. This material is not intended to be relied upon as a forecast, research or investment advice. The opinions expressed are as of the date indicated and may change as subsequent conditions vary. The information and opinions contained in this post are derived from proprietary and nonproprietary sources deemed by Silverlight Asset Management LLC to be reliable, are not necessarily all-inclusive and are not guaranteed as to accuracy. As such, no warranty of accuracy or reliability is given and no responsibility arising in any other way for errors and omissions (including responsibility to any person by reason of negligence) is accepted by Silverlight Asset Management LLC, its officers, employees or agents. This post may contain "forward-looking" information that is not purely historical in nature. Such information may include, among other things, projections and forecasts. There is no guarantee that any of these views will come to pass. Reliance upon information in this post is at the sole discretion of the reader.​​ ​