You are here

Wall Street's Next Short Squeeze Could Be In Energy Stocks
Wall Street's Next Short Squeeze Could Be In Energy Stocks
Submitted by Silverlight Asset Management, LLC on February 17th, 2021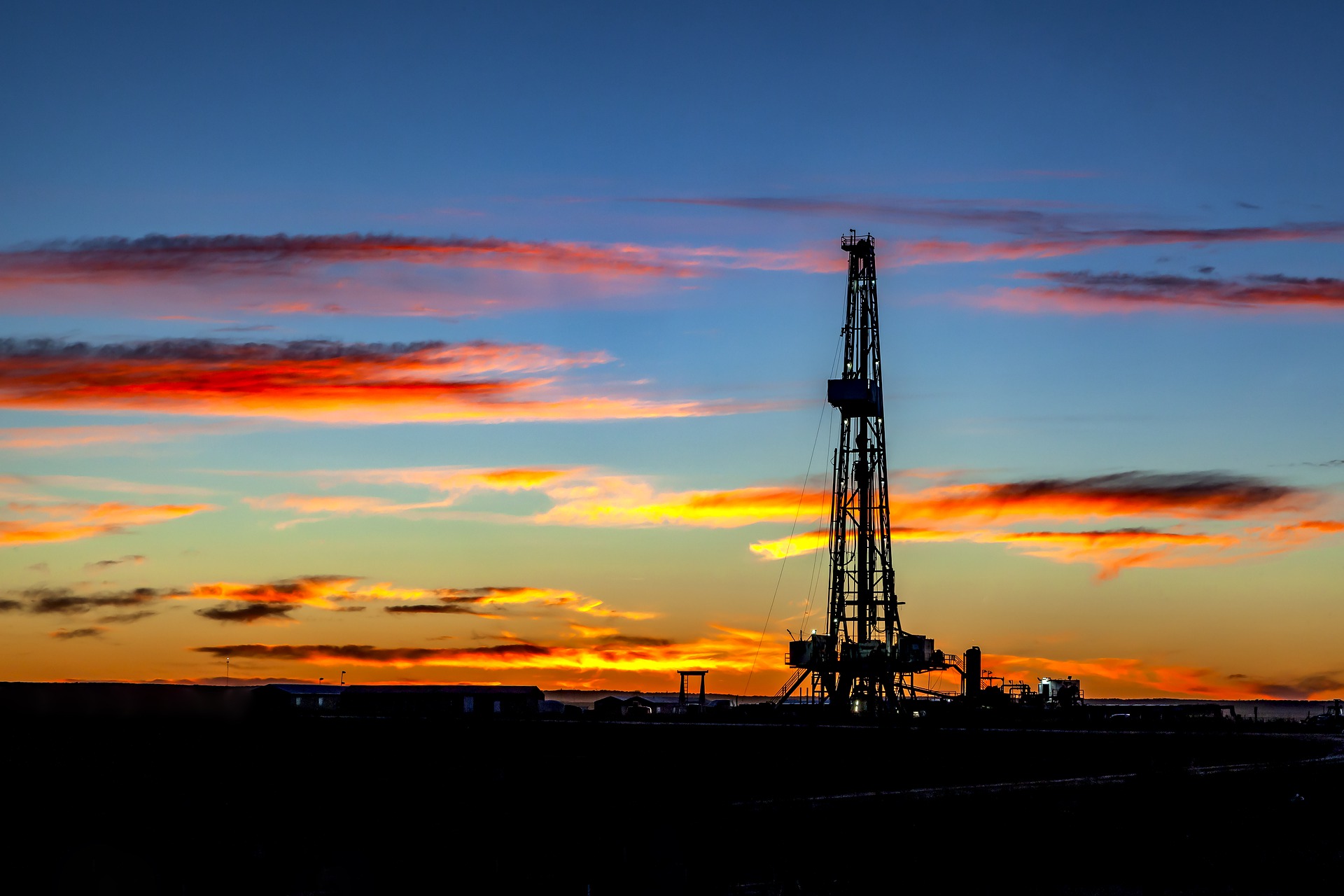 If energy stocks are heavily shorted, does that spell opportunity?
So far in 2021, WTI crude oil is up 22% and the Energy Sector SPDR ETF (XLE) has gained 18%—both outpacing the S&P 500's 4.9% return. However, investor positioning shows most investors are not capitalizing on energy's recent outperformance.
Short Bias Toward Energy Stocks
According to JPMorgan quant guru, Marko Kolanovic, the number of shares currently short U.S. energy stocks is 4 times the S&P 500 average. In a report outlining his bullish outlook for a Commodity Super-Cycle, Kolanovic used the chart below to show how this trend has evolved over time.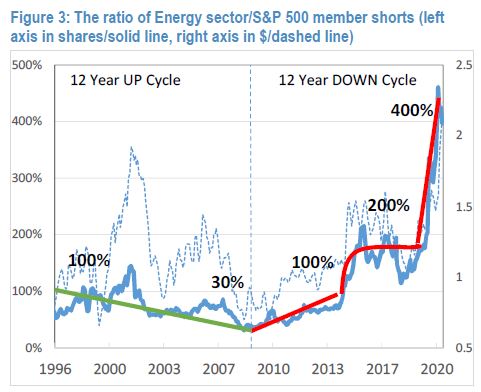 The Bloomberg Commodity Spot Index is up over 60% from its March 2020 lows, and commodities are expected to see rising demand as global travel resumes and fixed investment accelerates in the second half of 2021. Add to that expectations for a weaker dollar as U.S. fiscal debt keeps outpacing the rest of the world, and it starts to make sense why Google searches for the word "Reflation" are spiking.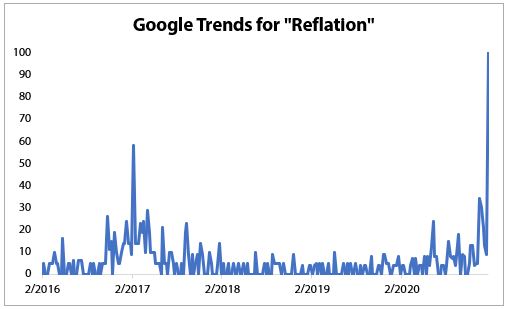 Source: Google Trends. Numbers represent search interest relative to the highest point on the chart for the given region and time. A value of 100 is the peak popularity for the term.
"You do have expectations of a swift recovery later this year, higher inflation expectations and some signs of actual inflation picking up as well," said Jan von Gerich, chief strategist at Nordea Bank Abp, in a Bloomberg interview.
Historically, energy has outperformed during reflationary regimes.
Even though the reflation theme is gathering momentum, most investors are still very underweight energy exposure. Active and passive investors have dramatically cut energy sector allocations since 2010. Retail investors have also cut energy sector exposure from 4.4% to just 0.6%.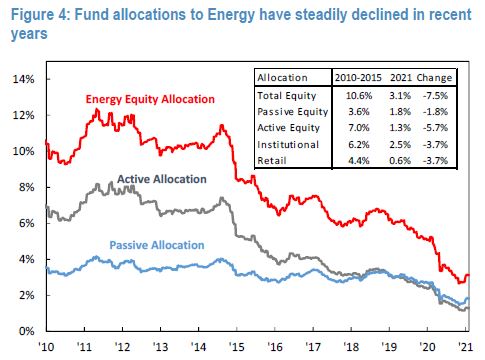 Going forward, Mr. Kolanovic expects sentiment to improve in the energy sector, possibly starting with retail investors. "Given the increased retail activity and interest in stocks that are volatile, have high short interest, are smaller in size and have thematic news/social media coverage, the sector will likely be of interest to retail investors," Kolanovic writes.
One reason 'short interest' has become a major buzzword for investors stems from the well-publicized rally in GameStop shares.
GameStop's Short Story
In Q4 2020, a fundamental catalyst emerged for investing in GameStop when the founder of Chewy, Ryan Cohen, joined the board and signaled his commitment to help modernize the company. In hindsight, Cohen timed his purchase of GameStop shares brilliantly. RC Ventures, his investment firm, bought in at an average cost of $9.12 per share.
Later, as more investors studied the investment opportunity in GameStop, it also became well recognized that institutional investors (i.e. hedge funds) had more shorts on GameStop than actual shares in existence. This anomaly ignited a rallying cry on Reddit message boards, as posters began encouraging one another to buy GameStop to "punish" hedge funds. By driving up the price of GameStop, retail investors could squeeze short-sellers into forced covering.
The strategy was successful. After opening the year at $18.84, GameStop rocketed all the way up to $347.51. The stock has since settled back to $52.40 but remains up 178% year-to-date. Meanwhile, there are still 21.4 million shares short, which is equal to about 43% of the float.
Like so many market indicators, elevated short interest can signify risk or opportunity. Every situation is different.
One takeaway from the GameStop story, though, is that lopsided negative sentiment can morph into a positive springboard to outsized gains.
Presently, the overall level of short interest in U.S. stocks is fairly low. As a percentage of the float for the total U.S. market, short interest is the lowest since 2013 at 3.5%.
The few stocks that are heavily shorted, however, are outperforming. For example, an equal-weighted index of the 100 stocks in the Russell 300o Index with the highest short interest has already risen 42% year-to-date.
Will energy shorts be the next group of bears to capitulate? One important timing clue suggests energy stocks may be nearing an inflection point.
Timing A Rotation Toward Energy
When a sector has underperformed for as long as energy has, investors are rightfully weary of trying to catch the falling knife. That said, when a group is as heavily shorted and under-owned as energy is, there's also serious mean reversion potential when conditions change.
Energy is the only sector that still has a negative momentum profile across many systematic, factor-based investing strategies. In March, that could change.
According to Kolanovic, many equity quants tend to crowd around the 12-month momentum signal. Thus, once we lap the March 2020 lows in equities and oil prices next month—this key momentum indicator will flip from bearish to bullish. That could ignite short covering and buying programs that result in net inflows to the energy sector of between $20 billion and $30 billion, per Kolanovic.
Calendar-related quant buying doesn't guarantee any sector will outperform. But if the bullish trend in high-short interest stocks continues, the energy sector could surprise to the upside. Maybe sooner than many investors think.
Originally published by Forbes. Reprinted with permission.
---
Disclosure: This material is not intended to be relied upon as a forecast, research or investment advice. The opinions expressed are as of the date indicated and may change as subsequent conditions vary. The information and opinions contained in this post are derived from proprietary and nonproprietary sources deemed by Silverlight Asset Management LLC to be reliable, are not necessarily all-inclusive and are not guaranteed as to accuracy. As such, no warranty of accuracy or reliability is given and no responsibility arising in any other way for errors and omissions (including responsibility to any person by reason of negligence) is accepted by Silverlight Asset Management LLC, its officers, employees or agents. This post may contain "forward-looking" information that is not purely historical in nature. Such information may include, among other things, projections and forecasts. There is no guarantee that any of these views will come to pass. Reliance upon information in this post is at the sole discretion of the reader.​​